It is common knowledge that professional golf ranks right up there in terms of pay cheques, and that golfers who make the top echelons of the sport, especially the PGA Tour, figure prominently in the list of richest athletes in the world.
Over time, several surveys have been conducted and lists drawn up on the highest-paying disciplines in the sporting world, and professional golf ranks among the top-five most lucrative professions.
Money is definitely a driving force, but not the sole motivating factor to aim for the stars. The quest for excellence and glory can be called the primary driving force for elite athletes. The long road and toil to get to the summit entails a lot of sacrifice, and it is only appropriate that once at the top, the athletes enjoy the fruits of their labour.
Tiger Woods is synonymous with excellence in golf, and it isn't surprising that the man who redefined the way this sport is played at the highest level with his uncanny skill and passion for fitness, heads the list of mentions.
Read on for our compilation of the richest golfers in the world based on their net worth, earnings, endorsements and other projects.
Here are the richest golfers in the world
Tiger Woods
Net worth: USD 1.1 billion
Tiger Woods, the most successful golfer in history, is at the top of our list of richest golfers of all time. As of 2023, his net worth is $1.1 billion, making him the biggest moneymaker in golf the world has ever seen. He endorses brands such as Rolex, Centinel Spine, Bridgestone Golf, Hero MotoCorp, Discovery Communications, Upper Deck, Monster Energy, 2K Drive, TaylorMade, Nike, Kowa, Full Swing Simulators, and Golf TV. Woods has turned his golf earnings into investments such as a massive 12-acre oceanfront property in Jupiter Island, Florida; TGR Design, a golf-course design firm; Popstroke, a golf and casual dining company; and TMRW Sports, a tech-focused company with intentions to introduce a new golf league called TGL.
Arnold Palmer
Net worth: USD 875 million
One of the greatest golfers of all time, Arnold Palmer was an American professional golfer with an estimated net worth of $875 million. Palmer, who passed away in 2016, made the most of his earnings through golf winnings, golf course design, endorsements, and other businesses. With a variety of commercial ventures and investments that gave him several revenue streams, he was an accomplished investor and entrepreneur. Palmer designed numerous golf courses throughout the world, had various licensing deals, invested in the stock market and real estate, had television commentary contracts, and appeared in commercials.
Greg Norman
Net worth: USD 420 million
Perhaps the world's most successful athlete-turned-businessman, Greg Norman is celebrated for both his golf skills and entrepreneurial passion. Norman utilised his professional golfing experience as a springboard to forge a presence in a variety of golf and lifestyle-related businesses. Real estate, turf farming, interior design, clothing, wine, and restaurants are a few of these ventures. Some of the businesses that have collaborated with Norman include Authentic Brands Group, Cobra Puma Golf, Club Car, Delos, Novex Biotech, Qbe Shootout, Playsight, and Sandals Resorts. All of Norman's business endeavors are managed by his company, Great White Shark Enterprises. Norman is currently the CEO and Commissioner of LIV Golf.
Phil Mickelson
Net worth: USD 410 million
Well known for his extraordinary golfing abilities and long career. Phil Mickelson's estimated net worth as of 2023 is $410 million, putting him in the top 10 richest golfers in the world. Nicknamed "Lefty" owing to his unusual left-handed swing, he reportedly makes over $60 million a year from his game. Mickelson has collaborated with a variety of brands, including Rolex, Ford Motors, Barclays, Exxon Mobil, and KPMG. His business associations with Titleist, Amgen, Intrepid Financial Partners, and Grayhawk account for a sizeable portion of his net worth. In addition, he is a founding partner of For Wellness, a company that promotes wholesome food and beverages.
Jack Nicklaus
Net worth: USD 400 million
Nicknamed "The Golden Bear," Jack Nicklaus is widely recognised as one of the greatest professional golfers of all time. It is estimated that the retired American professional golfer is worth $400 million. He established Nicklaus Design and has created more than 425 breathtaking golf courses in 40 states and 45 different countries. He has a few ventures besides designing golf courses. With the introduction of the distinctive Golden Bear insignia in 1962, Nicklaus-branded merchandise such as clothing, accessories, hats, dining establishments, wine, and home decor have been sold all over the world. Throughout his career, Jack has promoted a number of products, including Terlato Wines, Perry Ellis, Rolex, and more.
Gary Player
Net worth: USD 255 million
Also known by his nickname "Black Knight," Gary Player has had one of the most successful careers, with victories over 150 professional tournaments. According to estimates, Player's net worth is around $255 million. His golfing prowess and sponsorship deals enabled him to acquire a fortune. Even in his 80s, he promotes a number of brands. Player is a celebrated golf course designer who has worked on more than 400 projects across five continents. Callaway, Coca-Cola, BMW, Sun International South Africa, and Rolex were among the companies that signed Players for endorsements. Player has made investments in a number of commercial ventures, including Gary Player International and Gary Player Designs.
Rory McIlroy
Net worth: USD 220 million
Rory McIlroy, who hails from Northern Ireland, is currently regarded as one of the top golfers in the world. McIlroy is one of just three players, along with Tiger Woods and Jack Nicklaus, to have won four Major titles before the age of 25. The estimated value of McIlroy's net worth is $220 million. His multiple endorsements and real estate holdings are his other primary sources of earnings away from the golf course. He is a Nike athlete and is also affiliated with a number of other high-profile businesses. TaylorMade, Nike, NBC Sports/Golf Pass, Omega, Optum, and Workday are a few of these. TaylorMade is yet another of McIlroy's principal sponsors.
Fred Couples
Net worth: USD 125 million
Fred Couples is a legend in the sport and has 64 professional championships to his name. The former World No. 1, dubbed "Boom Boom" for his long, perfect drives off the tee, is estimated to be worth $125 million. He had a big endorsement agreement with Nike, and he was well-known for donning Nike golf gear, including hats and shoes. Couples has also endorsed Ashworth, Titleist, and Bridgestone golf balls. Due to his on-course success and recognised style, he has generally been a sought-after endorser in the golf industry. Couples has dabbled in golf design for several years, and has also been on a number of golf-related television programmes and broadcasts.
Jordan Spieth
Net worth: USD 110 million
Jordan Spieth, a 30-year-old American professional golfer, has won three Major tournaments and was the 2015 FedEx Cup champion. When he won the 2015 Masters Tournament, he became the second youngest golfer after Woods to do so. Spieth has amassed a net worth of $110 million from game earnings and other sources. Sportswear business Under Armour is his primary sponsor. In addition, he has endorsement agreements with Rolex, AT&T, NetJets, Titleist, Perfect Sense, Wheaties, and SuperStroke. Spieth has invested in The Players' Tribune, Performance Inspired Nutrition, a dietary supplement company, Golf Genius Software, and Tonal, a maker of computerised strength training equipment.
Ernie Els
Net worth: USD 95 million
South African golfer Ernie Els, often known as "Big Easy" due to his easy swing and large frame, was one of the "Big Five" players who dominated the sport in the middle of the 2000s, along with Phil Mickelson, Retief Goosen, Viay Singh, and Tiger Woods. He established Ernie Els Design, a full-service golf course design business, in 2000 and began creating courses all around the world. He also engages in a number of business ventures, such as Ernie Els Wines, Ernie Els Champion Pet Products, and Ernie Els Biltong, a company that produces healthy, high-energy snacks. The Vault is an e-commerce site, and he has opened up about 50 clothing stores in South Africa that market the Ernie Els line.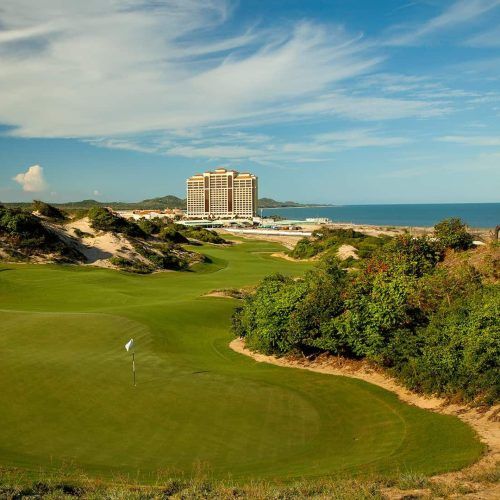 (Main and featured image: David Cannon/ Getty Images)
This story first appeared on Prestige Online Singapore
Frequently Asked Questions (FAQs)
– Is Tiger Woods a billionaire?
Tiger Woods was named a billionaire by Forbes in 2022, making him only the second active athlete to ever become so after LeBron James (American professional basketball player).
– How many billionaire golfers are there?
The only golfer to reach the billion-dollar mark is Tiger Woods, who has 15 Major championship victories and 82 PGA Tour title wins.
– Who are the current highest-paid pro golfers?
As per the latest Forbes report of June 2023, former world No 1 Dustin Johnson (DJ) heads the list with total earnings of $111 million. The coming into existence of LIVGolf has been a game-changer for players like DJ and Phil Mickelson, who follows with a portfolio worth $107 million. Rory McIlroy, who did not jump ship and chose to stay on the PGA Tour, is third with earnings of $80 million.
written by.
Robin Bose
Robin Bose has covered multi-discipline sport for prominent publications in India like The Statesman and Outlook before being bitten by the golf bug in 2008. He specialised in the sport and covered it across the world for Hindustan Times over 13 years. After moving on, he divides time between setting up his venture, TheGolfingHub, and watching his teenage son chase his dream in golf.