When one of the world's finest football players crossed paths with a pop group's most glamorous member, sparks flew. A few low-key dates, several loving pictures together, a fairytale wedding, and four children later — 'Posh and Becks' became Britain's most beloved celebrity couple. As an all-new documentary sees David and Victoria Beckham open up the intricacies of their relationship to the world, we take a look at how it all progressed.
A new, four-part docuseries called Beckham will offer a peek into the life and laurels of football sensation David Beckham — including his 24-year-long relationship with former pop icon and current fashion mogul Victoria Beckham. The two are often deemed 'relationship goals' — going from being the 'It couple' in the 2000s to the power couple they are today. Along the way, they've ridden out the storms of rumours and hit numerous professional and personal milestones together. Not to mention, raised four kids — Brooklyn, Romeo, Cruz and, Harper Seven. Add to this, a series of affectionate social media posts, glamorous appearances, and over 16 extravagant engagement rings and it's no surprise why the duo is one of the most popular around the world. Here's a look at how their love story blossomed over the course of time.
Victoria and David Beckham: A Relationship Timeline
1997: Two football matches, one phone number
Spice Girls members Victoria Adams and Mel C arrived at a Manchester United football match, showing up at the Manchester United players' lounge. There the former was greeted by David Beckham — an up-and-coming football player. In an interview with Jimmy Fallon, the latter revealed that Adams was his favourite member of the popular British musical act. When she came to another one of his games in Manchester, he struck up a conversation. An hour later, he had her number. "She actually got the train up that day, so she wrote her number down on her train ticket, which I still have," he shared.
Meanwhile, according to the The Mirror UK Victoria said, "The fact I went to the games really was to – some might say I stalked him, I would say see him." She further added, "I just fancied him, it was as simple as that." Things moved at breakneck speed after, with tabloids noting that Beckham was smitten. One report quotes football player and Beckham's former teammate Gary Neville saying: "He was on the phone to Victoria every second. He would stay on the phone till one in the morning." He further added "It was like an addict. He'd drive four hours to spend 20 minutes with her." Reportedly, the couple would meet in car parks to evade media attention and had their first kiss in the ManU star's BMW.
1998: She said yes
A year into dating — during which time the moniker Posh and Becks began doing the rounds — the couple announced their engagement. In his autobiography, the latter stated they both had crushes on each other prior to the meet cute. "My wife picked me out of a soccer sticker book. And I chose her off the telly. It felt straight away like we'd always been meant to be together." According to The Sun report, the star footballer got down on one knee over dinner at a restaurant in Cheshunt, Hertfordshire. A few months later, the couple announced they were expecting their first child.
1999: A fairytale wedding
In March, Posh and Becks welcomed their first child, son Brooklyn, into the world and, four months later, the supercouple tied the knot atin the picturesque Luttrellstown Castle in Dublin, Ireland. With thrones, tiaras, and a GBP 750,000 (after adjusting for inflation) budget — the royal affair was dubbed the wedding of the year by the media. The couple's son was their ring-bearer and Gary Neville the best man. Reportedly, the duo only had about 29 guests present at the official ceremony. In a throwback Instagram post on their 15th wedding anniversary, Victoria stated that it was "Such a special day for us all x."
2002: Romeo's birth
Three years in, the couple welcomed their second son Romeo. Daily Mail quoted Beckham as stating, "It's always nervous having children but it's the most beautiful thing in the world," he said while adding that the mother was doing well. "He looks like Brooklyn. He's got Brooklyn's nose and Victoria's chin."
2003-2004: Rumours rock the love boat
A wildly popular football player by this point, David Beckam moved to La Liga (Spainish football league) to play for Real Madrid. During this time, rumours began swirling that he'd had an affair with his former assistant Rebecca Loos. A statement, as noted by Daily Mail, saw the sportsman saying, "The simple truth is that I am very happily married. I have a wonderful wife and two very special kids. There is nothing any third party can do to change these facts." His wife stood by him during this time, only later revealing it was a rough moment in her life.
2005: A third addition to the Beckham family
In February, the Beckhams welcomed their third son Cruz into the world. "We've got a baby boy,." NBC News reported David as saying. He further added, "He is beautiful. He is in there with his brothers now and he is very happy." Reflecting on the choice of the name, he revealed, "It's just a name we liked. We found it hard this time but we came up with a name that we both loved and stuck to it.," He also shared, "He's got Victoria's nose and lips. He's gorgeous so we're very happy."
2007-2011: Million-dollar deals, tattoo dedications, and the family's first daughter
In 2007, After four years in Spain David Beckham's highly-publicised GBD 128 million deal with the LA Galaxy saw them all moving to a luxurious home in Bel Air. This is where the family spent most of their time, often popping by London. As Victoria befriended the who's who of Hollywood, the couple's star quotient soared.
In 2009, David got a sleeve tattoo, remarking,. "I had 10 roses around my arms…for the 10 years," according to The New York Daily News. He further revealed the secret to his steady marriage. "We always try to do special things," he said. "It's not always about buying gifts for each other. We just make sure that we spend time together or go for dinner together. That is important to us."
In July 2011, the Beckhams were ecstatic to bring their first daughter Harper Seven into their ranks. The name, reports note, is a tribute to her father's shirt number.
2013-2018: A retirement and renewed vows
In May 2013 — after about 115 matches for his country (many as the captain), six Premier League titles, and 394 Manchester United matches — David announced his retirement. He credited his family for his success. "I owe everything to Victoria and the kids, who have given me the inspiration and support to play at the highest level for such a long period." In 2014, the pair had their wax figures installed at Madame Tussauds, London.
View this post on Instagram
Sometime in 2017, the loved-up couple revealed they'd renewed their vows in an intimate ceremony since their marriage. "It was a lot more private, there was about six people there in our house, " Beckham told BBC radio (according to an Indian Express report). Revealing that the duo had managed to weather all storms together because of strong family values, he said, "People have talked about, 'Do we stay together because it's a brand?' Of course not. We stay together because we love each other, because we have four amazing children." He further added, "Do you go through tough times? Of course. That's part of relationships. It's part of marriages. It's part of having children. It's part of having responsibilities."
This quelled many divorce rumours that were swirling around the couple. In March 2018, the two showed up to the wedding of the Duke and Duchess of Sussex in March. David wore a charcoal Dior suit, Victoria donned a navy blue dress.
2019: Two decades of togetherness
View this post on Instagram
The couple rang in their 20th anniversary with dreamy Instagram throwbacks. "WOW 20 years, look what we created. Love you so much," David wrote on his Instagram. Meanwhile, Victoria shared a video on her page saying, "20 years today. I love you so much."
2022-2023: Family time and more tattoos
David and Victoria Beckham share a series of pictures on special occasions. This includes a family appearance at Paris Fashion Week 2022, a Christmas hoodie with the text, "All I want for Christmas is David Beckham," and a sneak peek into a Spice Girls singing session with the caption, "Karaoke night with the one & only Posh Spice 🖤". In September 2023, David got a tattoo on his finger 'Posh,' for his wife. On Valentine's Day, the two took a trip down memory lane. "26 years and still my Valentine, I love you so much @davidbeckham 💕💕💕💕 kisses @brooklynpeltzbeckham @cruzbeckham @romeobeckham #HarperSeven x," Victoria wrote.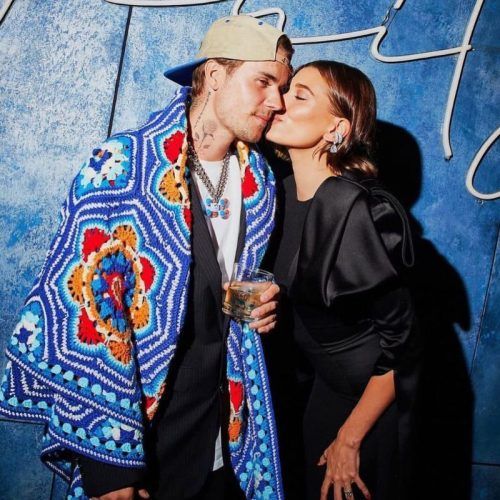 All images: Courtesy Victoria and David Beckham
Frequently Asked Questions (FAQs)
1. How did David Beckham fall in love with Victoria?
It was love at first sight for David and Victoria Beckham, both of whom had a crush on each other before they crossed paths at a football match in 1997.
2. How long Victoria Beckham and David Beckham have been married for?
Victoria and David Beckham have been together for 24 years.
This story first appeared on Lifestyle Asia India