New York Fashion Week Spring/Summer 2024 kicked off the fashion month of September in grand style with some exciting debuts, showcases and new-age talents electrifying the city.
Commenced on September 8, the bustling week started with the most-awaited debut of Peter Do for Helmut Lang. Originally from Vietnam, the designer was given a chance to bring a new vision to the '90s brand that had spent years without an official creative director. On the other hand, Coach celebrated a significant milestone – Creative Director Stuart Vevers's tenth anniversary – with celebrities such as Jennifer Lopez and Lil Nas X in attendance.
Some 🌟s walk into a library… #CoachSpring24 #NYFW #CoachNY#JenniferLopez #AnnaWintour #EdwardEnninful #LeeYoungji #YooTaeyang #ChaseStokes #CamilaMendes pic.twitter.com/ENBPJ8gqu5

— Coach (@Coach) September 10, 2023
Other noteworthy events that occurred at the fashion extravaganza included the comebacks of iconic brands like Ralph Lauren and 3.1 Phillip Lim on the fashion calendar. Additionally, we also got a glimpse of debutant designers like Grace Ling and Bishme Cromartie showcasing their inaugural collections.
As there were also a lot of exciting menswear collections that were spotted at the New York Fashion Week this year, we've decided to shortlist the best of the best. So without further ado, here is the best menswear that we spotted at the NYFW SS 2024 season.
The best of menswear spotted at New York Fashion Week SS 2024
Helmut Lang
When people said they were waiting for Peter Do's debut as the Creative Director of Helmut Lang, they weren't joking. One of the most-awaited and much-anticipated events of the fashion season, Helmut Lang's SS24 presentation started with an essay, written by Ocean Vuong, that expressed Do's experience through the motif of a car.
Coming to his collection, Do introduced a striking yellow print that was spotted in formalwear as seat belt-like straps crisscrossing the wearer's torso, as well as in the belt loops of the trousers. The colour palette mostly boasted neutral tones, with the exception of a vibrant pink and bright yellow. Vuong's words were printed on the reverse sides of button-down shirts, in bold black text that conveyed statements like 'Your car was my first room' and 'Our clothes on the floor like stepped-on flowers.' These shirts were paired with quintessential Lang staples like refined flat-front pants, pleated leather trousers and draped coats. The androgynous spirit of Lang's design philosophy was present throughout the collection, while Do's innovative cutting techniques subtly brought each look to life.
For a brand that has been struggling without a guiding vision, Do's debut marks the beginning of a new era filled with exciting potential.
Coach
Coach's Spring/Summer 2024 presentation marked a milestone as it celebrated Creative Director Stuart Vevers who has guided the brand's creative vision for a decade.
Throughout the collection, we saw upcycled denim and leather jackets paired with formal attire, creating a mix of casual and sophisticated elements. Some of the other key pieces of this collection included distressed knitwear, tailored sweatpants, short-sleeved sweaters and oversized suits, blazers and jackets. Coming to the accessories, the collection was filled with an array of eye-catching statement bags, each fashioned into whimsical shapes resembling ducks, bows and lips, adding a playful and maximalist touch to the overall presentation.
Michael Kors
At the New York Fashion Week, Michael Kors presented its Spring/Summer 2024 collection in the presence of celebrity guests such as Blake Lively, Halle Berry, Ellen Pompeo, Rita Ora, Vanessa Hudgens, Anitta and Nicky Hilton. The designer described his collection in the following words – "This season, we're whisking everyone away on a holiday."
To that effect, Kors masterfully captured a sense of streamlined romance through a diverse array of silhouettes. Some were short and flirtatious, while others had soft, floor-sweeping elegance. The colour palette also focused on breezy spring and summer hues such as white, cream, beige, lavender, brown and peach, making for an ideal fit for the next season.
Dion Lee
Dion Lee presented its SS 2024 collection at the New York Fashion Week with a vision of high fashion meets workwear. Think of it as modern workwear as the Australian designer ditched regular clubwear and went in another direction for the SS24 season.
The collection featured button-down shirts, wide-shouldered blazers and heavy leather jackets, all of which were paired with thigh-high boots. Apart from workwear-esque pieces, the menswear collection also featured denim-on-denim ensembles with models donning denim crop tops, jumpsuits, shorts and trousers. We also spotted casual wear essentials like hooded tops, white tank tops and utilitarian trousers (with multiple pockets) as part of Dion Lee's SS24 presentation.
LaQuan Smith
For LaQuan Smith's SS 2024 menswear showcase, the designer had a clear vision – to curate sci-fi glamour. The initial outfits also saw the quintessential LaQuan Smith aesthetic. Think sheer polos and metallic co-ord sets. Other key looks included a light-grey jacket layered over a translucent top, utilitarian trousers featuring multiple zippers and integrated knee pads, and high denim shorts.
To sum up, this new era in Smith's design journey brilliantly captures the essence of a versatile and boundary-pushing vision. We can't help but stan.
Tanner Fletcher
Tanner Fletcher, the design label hailing from Brooklyn and founded by fashion connoisseurs Tanner Richie and Fletcher Kassell, transformed its Spring/Summer 2024 runway premiere at the New York Fashion Week into a beauty pageant spectacle. In a vintage pageant reminiscent of the '60s, the menswear showcase featured knitwear with ribbons and majestic white tops. Think of this collection as Sandy Liang but for men.
Undoubtedly, this collection was indicative of the brand's evolving creative journey and what we can look forward to in the future.
Eckhaus Latta
Eckhaus Latta's Spring/Summer 2024 collection is tailor-made for those who love making bold fashion statements.
Helmed by the creative duo of Mike Eckhaus and Zoe Latta, this collection expanded the brand's iconic downtown aesthetic by introducing daring silhouettes that cater to both upscale and casual dress codes. The inaugural ensemble set the tone with a soil-coloured leather jacket, paired with a see-through t-shirt and leather pants. Other pieces included suits, nylon trousers, button-down shirts, lace co-ord sets, everyday knits, denim co-ord sets and crochet jackets. Lace was the highlight of the designer's vision, with every piece featuring intricate lace designs and/or details.
Aknvas
In preparation for the Spring/Summer 2024 season, Christian Juul Nielsen, the visionary behind Aknvas, drew inspiration from the world of literature for his latest collection as it was inspired by the stories of Danish writer Hans Christian Andersen.
Dubbed The Storyteller, Aknvas' SS24 presentation marries its signature penchant for impeccably wearable menswear and womenswear attire with hints of floral aesthetics. The menswear comprises a versatile range of essentials, including jackets, button-down shirts, trousers and shorts, solidifying their status as indispensable elements of one's wardrobe. Noteworthy pieces among them comprise a subtly oversized black blazer that came with a broad shoulder style, an acid-washed denim bomber jacket and shorts in leather and metallic textures.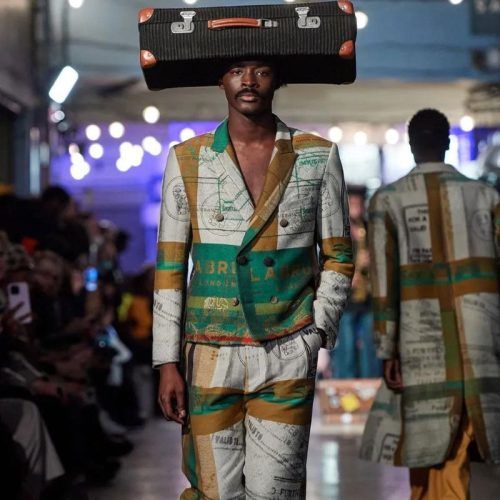 (Hero and feature image credit: Courtesy Instagram/Helmut Lang, Eckhaus Latta and Aknvas)
written by.
Sanika Achrekar
Digital Writer, Augustman
Sanika lives for fashion and skincare. She enjoys writing about style, beauty, and lifestyle. She worked as a fashion writer for Man's World India magazine. When not writing about designers and trends, she likes to shop, travel, try new Sushi restaurants, practise pilates and rewatch her comfort shows.